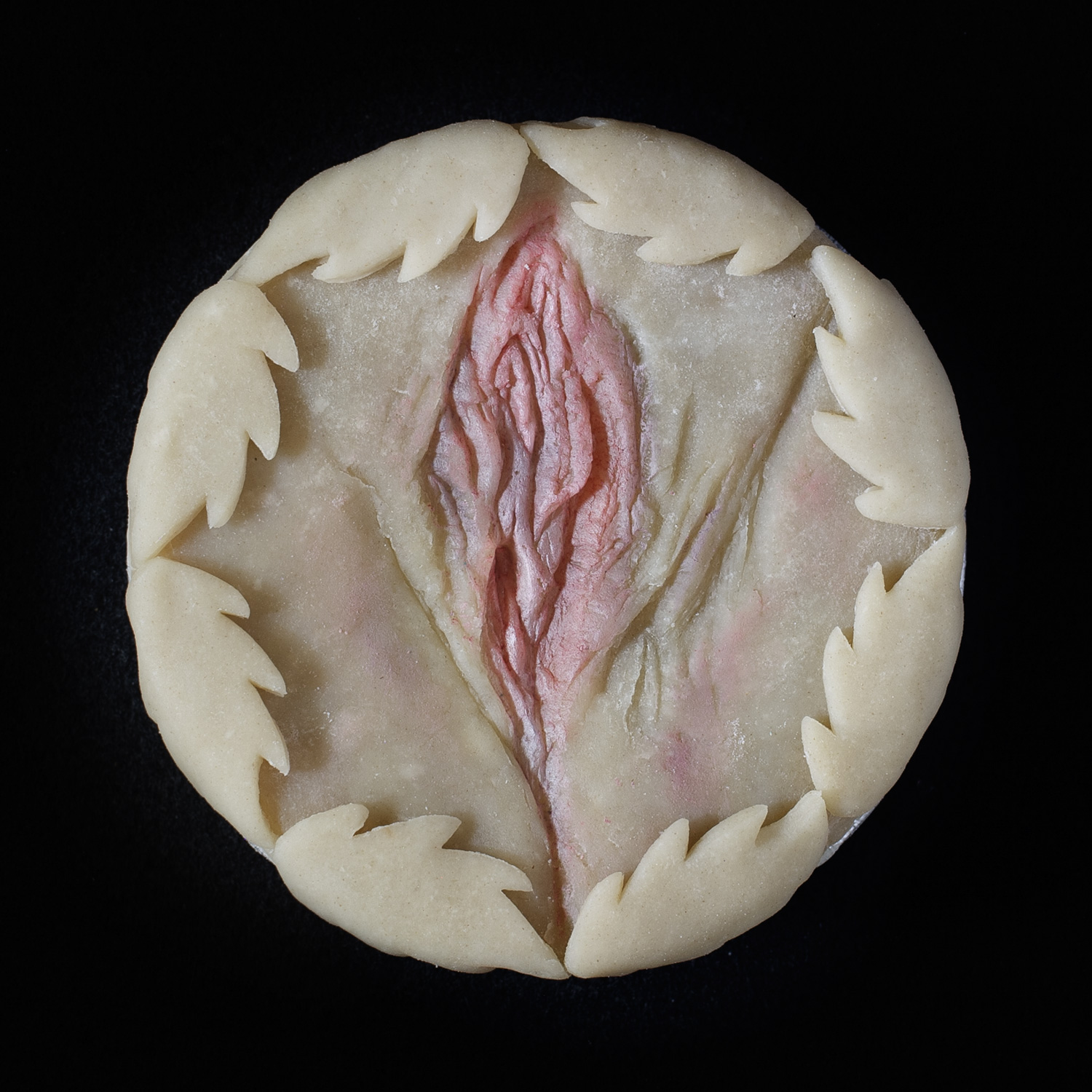 Pie 70
4″ Cherry Pie
Hand sculpted vulva art, hand painted with edible paints
Original text from Instagram here:
This pie was made in collaboration with @turkey.meadow.farm -they graciously shared their images for me to use as reference photos. Here are the words she shared with the image:
"After weeks of procrastinating I finally took this photo while breastfeeding my new 5 month old baby. After giving birth to my first child this winter I've had difficulty recognizing the woman *and yoni* that have transformed through this experience.
Letting go of control and having patience have always been difficult for me, but the experience of birth and the months since have truly tested me. Pushed me to every possible limit; physical, mental, and emotional.
So why on Earth would I want to submit my photo for the purpose of pie? Reclamation of self and awe and appreciation of all forms of art, especially regarding a variety of vulvas, as all are beautiful in their own right because we have all lived great journeys within our lives and each and every vulva tells a story of our individual experiences."
Every single mom in the world knows the difficulties and complex feelings that she is talking about. Bringing a life into existence, using our body to nurture and sustain this new person, often feeling overwhelmed trying to meet all of the expectations that come with the word "mother."
Our society makes it seem like we need to be able to have this endless love and nurturing for our kids, spouses, jobs, friends, parents, etc. and we end up putting ourselves last on the list. The truth is we need to fill our cup first or we have nothing left to give and end up struggling.
What advice do you have for self care during this season of life?
#piesinthewindow #normalbodies #reliefsculpture #newmomlife #newmomstruggles #yonicare #femaleart #femaleartistsofinstagram #wombwisdom #bodypositivitymovement #yoniart #yonilove #femalegaze
Model for Pies in the Window
This project wouldn't be possible without the lovely people who share their stories and images with me and I cannot thank them enough for participating.
If you would like to submit a photo and become part of the Pies in the Window Project, please check out the Model Submission Page.
Sign up for the newsletter
Get fresh baked news about Pies in the Window on the first Friday of every month!