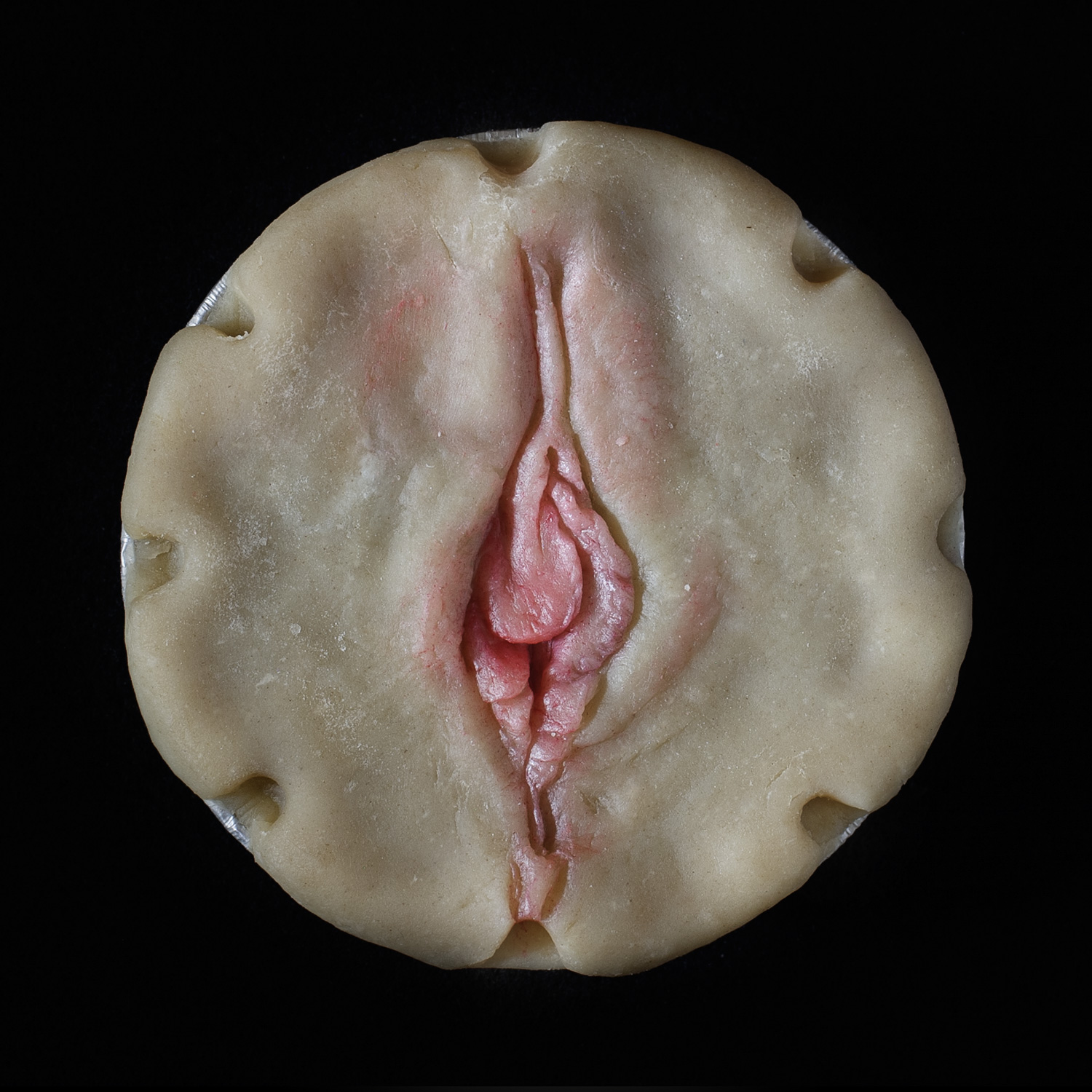 Pie 71
4″ Cherry Pie
Hand sculpted vulva art, hand painted with edible paints
Original text from Instagram here:
Pie 71 was made in collaboration with Sonia de Luna. Here are her beautiful and powerful words:
Sonia de Luna
As a woman who has endured the pains of this womanhood – a body assaulted
my sex
my heart
my self
abused, misused, squandered, and left for dead….
I modeled for this artwork as the final touches of my rite of self reclamation
A clear and absolute declaration
Of self love.
I'd no longer wait for someone to see me.
to fix me
to heal me
to pick me
It was never their job
Nevertheless
I had waited….for a long time,
I waited in the shadows and dark corners for someone to do those things
Until I realized this was my job
I finally saw myself.
In all my glory and gore.
The good the bad the ugly
the obscene
And the pristine
The demon
The saint
The beautiful mess
The possibility
Where my imperfections were flawless
And I was worthy of my own love
And I fixed me
And I healed me
And I picked me.
I am my own
infinite love
I am own woman
My body runneth over
I drip and gush
I bleed and blush
Love
And I'm damn tasty too.
Best freakin moon pie.
Says I.
She has been supporting my art and encouraging me from the very beginning of this project. When we started planning this, she was involved in so many big projects, and making a film featuring her dance and the beauty of nature. Now, she's faced with a long healing journey to be able to dance again and has a GoFundMe to help her endure the months ahead where she cannot earn income as a professional dancer. The link is in my story highlights on my profile page. Please help if you can- any amount will be deeply appreciated. (Here is the LINK to Sonia's GoFundMe for you visiting my website)
#piesinthewindow #yoniart #loveyourbody #bodyacceptance #femalegaze #yonilove #yoniverse #sacredfeminine #vulvaart #selflovejourney #feministartist #artseries #femininepower
Model for Pies in the Window
This project wouldn't be possible without the lovely people who share their stories and images with me and I cannot thank them enough for participating.
If you would like to submit a photo and become part of the Pies in the Window Project, please check out the Model Submission Page.
Sign up for the newsletter
Get fresh baked news about Pies in the Window on the first Friday of every month!