Have you seen the Barbie movie?
It seems like there are 3 main sides around the movie: The people who love the satire and think it's amazing, the people who hate it because they think the views are wrong, and the people who eye roll it and think it's trite.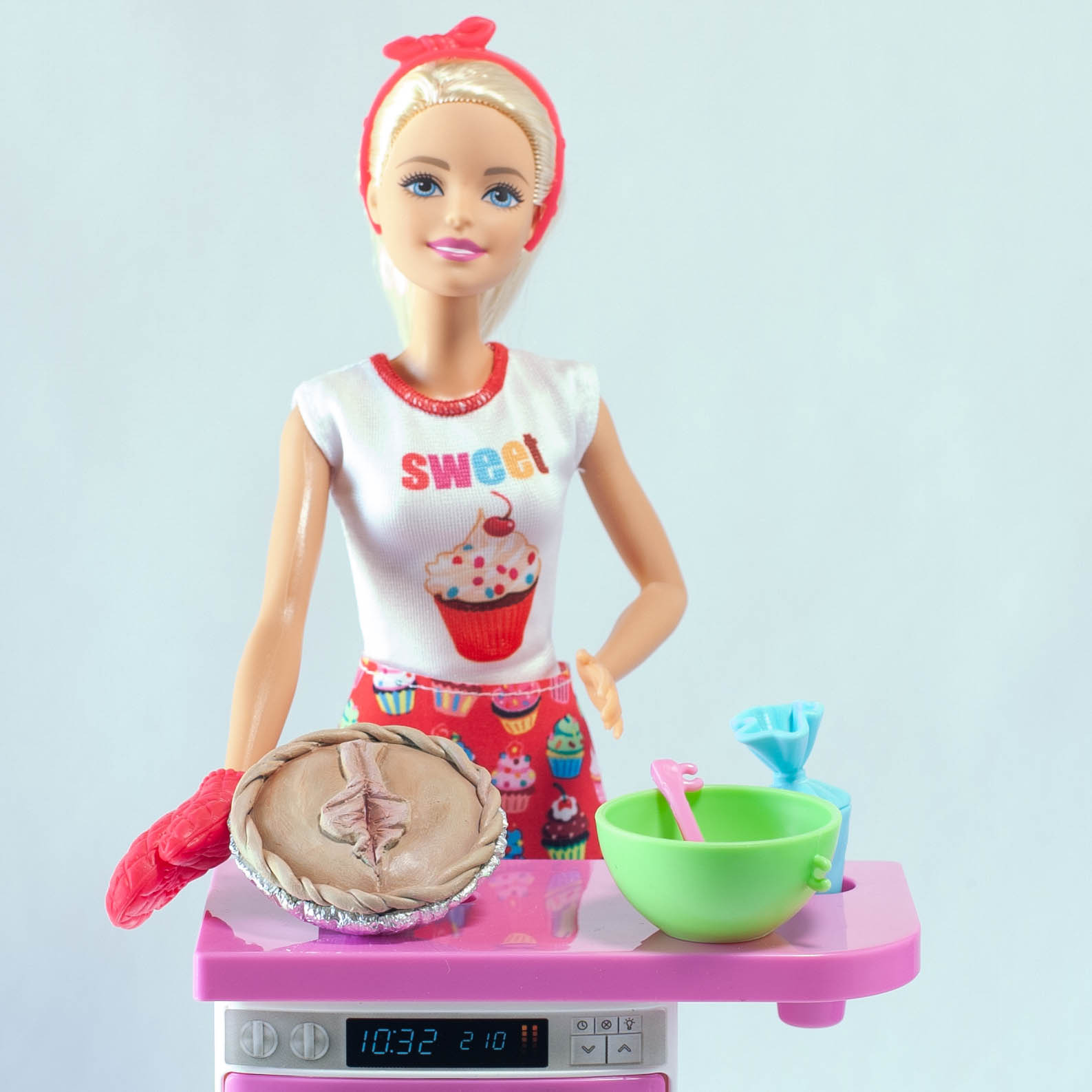 I am definitely in the "IT'S AMAZING" crowd. My love for the movie is as complicated as the topics addressed. Although, I do see where they could have hit harder, the movie is exclusively cishet from what I remember on my first watch, and I deeply understand that Mattel and Warner Bros are perfect examples of capitalist patriarchy in action.
Yet, there was so much in the movie that parallels perfectly what it was like for me to be handed a Barbie as a child and playfully imagine my life as an adult in a world where everything is possible. That is what they sold me, that is what I believed, even when everything in my real life was basically a giant fuckery, Barbie Land was there.
Playing with Barbies had me believing that I really could be and do anything. Similar to Stereotypical Barbie in Barbie Land when she learns about the real world. The movie is a small, very pink, Barbie styled window into what it's like. Not ALL of what it's like, but more than any other mainstream, summer blockbusters typically address.
It's also lovely that they included Ruth Handler, the creator of Barbie, and let her have her moment to talk to Barbie in the way only a wise and loving mother figure can. It was very touching!
My Baking Barbie and Mini Vulva Pie
About a year ago, I wrote an idea in my idea book to make Barbie holding a mini-pie. I had planned on it being in her lap and her looking down on it. I may come back to the idea sometime in the future if the idea feels like one I need to keep exploring the Barbie idea. Afterall, I meant it when I said that my love for Barbie was complicated. This piece is all Barbie love, we can leave the darker thoughts for another time, I'm sure they'll still be there.

When I went to buy the Barbie I just wanted a simple doll, but when I saw the Baking Barbie Chef Doll and Playset I knew she was the one! I had no idea that the movie was going to be such a hit or even what it was about. The plans for my Barbie were completely unconnected to the movie until I saw it and then it became a perfect response to the movie.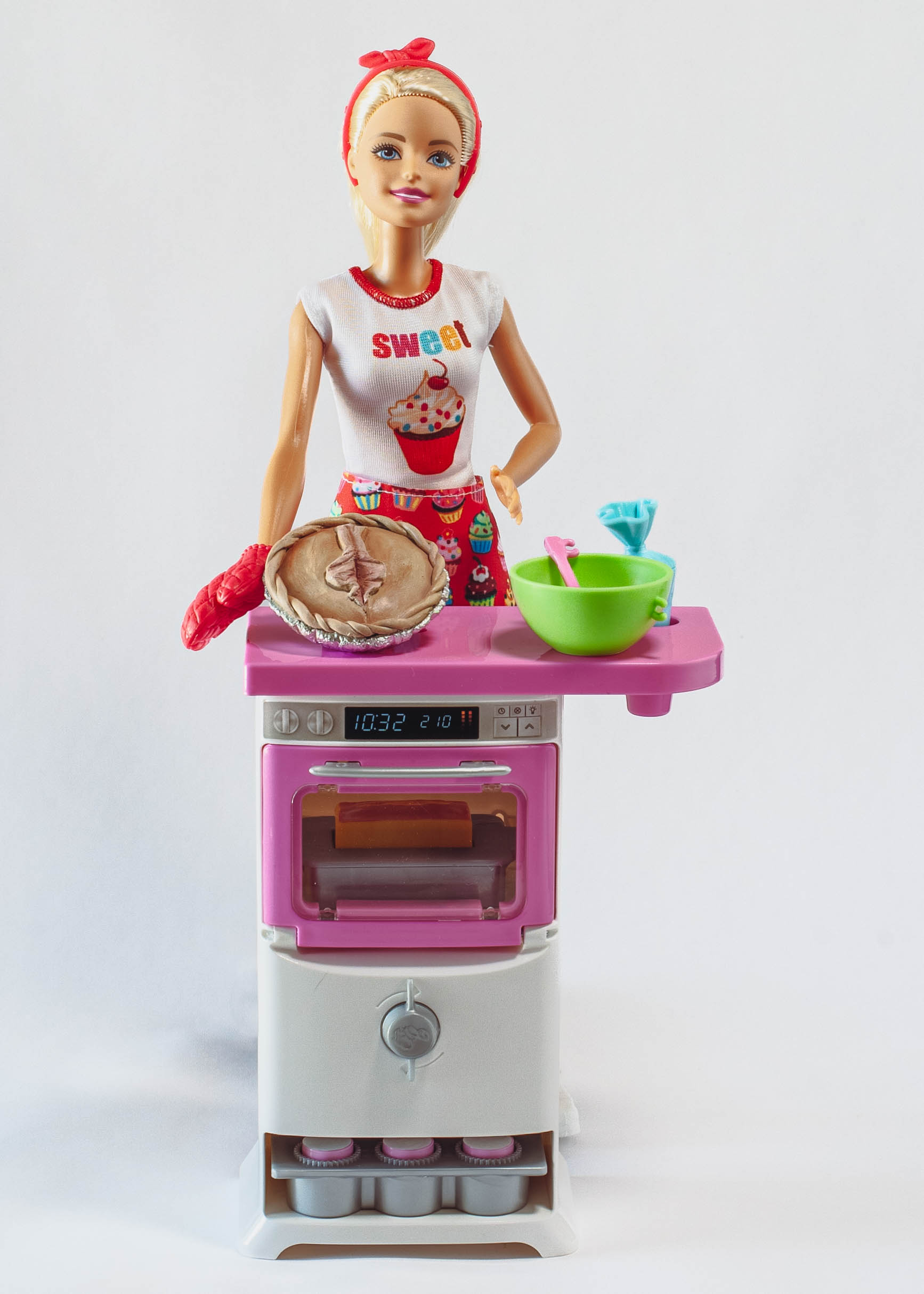 The tiny pie is based on Pie 31 , made out of hand sculpted and painted polymer clay with aluminum foil for the pie tin. It was so much fun to take the photo, just like playing with Barbies! Barbie looks so proud of her little pie (am I projecting?)
My favorite quote from the Barbie movie
It seems like Gloria's speech on what it's really like to be a woman is everywhere. Indeed, it was powerful and especially poignant coming from the actress, America Ferrera. If any part deserved a standing ovation, it was that.
However, the line that stayed me is Barbie's response.
Giving a voice to the cognitive dissonance required to being a woman under the patriarchy robbed it of its power.

Barbie, 2023
If you've seen the movie, tell me what you thought. Even if you aren't a fan, I would love to hear what you didn't like. It's been interesting reading other points of view on the movie. I got into a little debate with one person over the daughter, Sasha's role. They felt like she was shoved aside to glorify "mum power."
I didn't really agree, but I could see why they felt that way. What I do love is this vortex of feminine energy that is swirling around and inspiring so many to open a dialog, create, and give birth to new ideas.
Sign up for the newsletter
Get fresh baked news about Pies in the Window on the first Friday of every month!