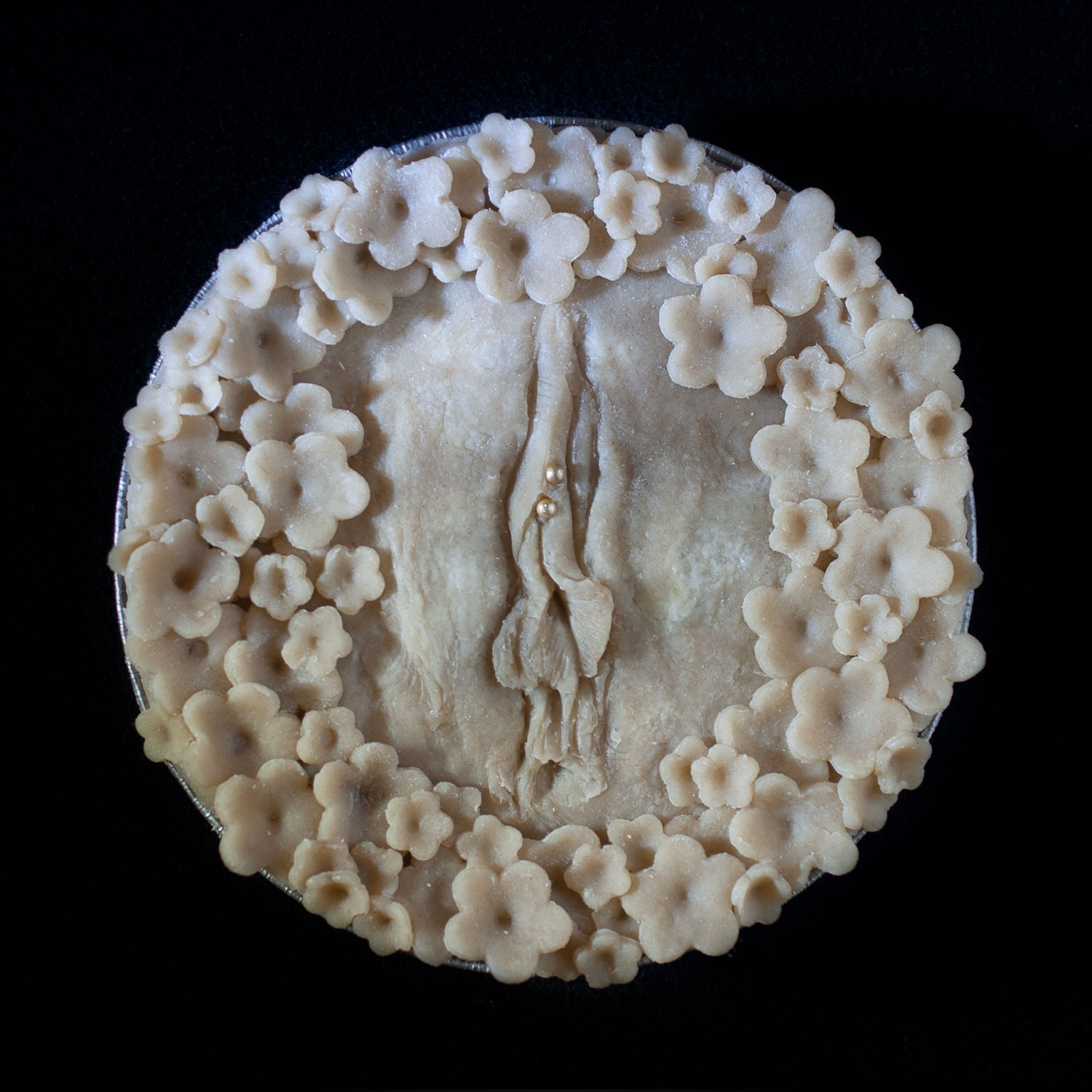 Series 5, Pie 51
6″ Blueberry Pie
Hand sculpted vulva art surrounded with cut and hand sculpted blossoms
This pie celebrates vulva diversity and the blossoming of each life change.
Original Text from the Instagram Post:
Pie 51

Blossoms represent new beginning and growth and the changing seasons of life.

I don't know about you, but throughout my life I have been blindsided by changes within my own body. Although I was always told that puberty, peri-menopause, menopause, and changes from pregnancy could happen, no one explained how profound each change would be. Older women just shake their head knowingly if I mentioned any issues.

Sadly, I got the feeling all of us go through these "changes" at some point and we're supposed to do it without complaining or stopping our routines. We certainly shouldn't need help or support. It's all natural and one day we magically pull through to the other side.

Times are changing though! So many of you are sharing your experiences and helping others around you. We deserve to know about our own bodies and our changes, we are not alone or abnormal.

There are solutions for alleviating the discomfort and transitioning through every change from puberty to menopause. Grin and bear it is not the way it should be.

#piesinthewindow #loveyourvulva #endshame #breakthestigma #endstigma #periodpositive #bodyacceptance #vulvapower #yoni #feministartist #fleshy #reliefart #yoniverse #vulvaart #divinefeminine #myartwork #anatomy
Baked Pie 51
Not the same as the unbaked photo, but beautiful in a new way.
All of the things that make it a delicious pie could be considered flaws to the untrained eye: A crackled top, a little filling bubbled out the sides, deep browning around the edges, a few of the blossoms have shifted (and I know that two fell off in the oven.)
Us pies lovers know the truth- It's more delectable now that it has gone through the heat and endured.
#piesinthewindow#vulvapower#loveyourvulva#yoni#vulvaart#breakthestigma#fleshy#feministart#vivalavulva#figureart#divinefeminineart#yoniart#beautifulart#vulvapie#reliefsculpture#womanartist#newart#loveyourself
Sign up for the newsletter
Get fresh baked news about Pies in the Window on the first Friday of every month!